10 for 10 Commemorative Campaign
Marking our collective progress, we recognized those who have enabled the Foundation's growth and impact during our first ten years with a special digital campaign. We are proud to have honored ten individuals and companies whose generosity and unwavering support have made possible our efforts to break the cycle of violence within at-risk youth communities.
Eric and Robin Schuss of Schuss Realty
Barry and Robin Cohen
Esther DiDonna of De La Mer Salon
The Schorr Family of Lester's Clothing
Duneier Jewelry
Linda Thibodeau of Leave Out Violence (LOVE)
Jeff and Laurie Schwartz
Randye Cohen and Joanne Hamroff
Melanie Byck, Community Giving Coordinator
'Love and Basketball' Event Team [Rob Schlesinger, Jen Gold, Erica Rudin (Hamroff), Melissa Bachman, Sam Schenkein (Cohen), Erin Kamlet, Ali Breidbart (Spivak), Chistine Eliot (Karo)]
Thank you to all those who contributed to our first digital campaign. We hit our goal of raising $30,000 in honor of Nicole's 30th birthday with contributions directed to our newest program partner, The Art Therapy Project of New York.
"Smile to Remember" Annual Golf & Tennis Outings
A Foundation tentpole, our "Smile to Remember" Annual Golf & Tennis Outing is more than simply about fundraising. Engaging community participants and active volunteers, these events have garnered over 400+ attendees to drive contributions to the various organizations aligned with the Foundation's mission. Our launch event held at Middle Bay Country Club (Oceanside, NY) in 2008 enabled the start of our collaborative relationship with The Long Island Crisis Center and the expansion of an outreach program educating high school and college-aged students on ways to identify the signs of mental illness and curb negative behaviors that lead individuals to resort to violence.
"A Smile to Remember" Casino Nights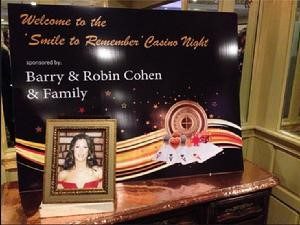 A night of optimism and activism, over the years we've brought together supporters of all ages to increase awareness and build support for two critical Foundation partners – The Long Island Crisis Center and Leave Out Violence. Putting a spotlight on the students who are driving action, these events serve as a forum to share the unique and emotional stories of the amazing young victims whom have turned their pain into art.
A huge thanks to our current and past sponsors:
Lester's Clothing
Schuss Realty Associates
Belco Health
De La Mer Salon
Duneier Diamond Jewelry
Michael Kors
Steve Madden
Dankner & Milstein, P.C.
Donny Deutsch
The support of these partners and volunteers, among others, has allowed us to raise the necessary funds to ensure ongoing educational outreach programs in local high schools and made possible the opening of 'The Nicole Schiffman LOVE Youth Center' in New York City (2010-2014).
"Love and Basketball" Tournaments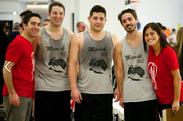 Brought to life to engage the younger generation of activists, this 3-on-3 Basketball Tournament has collectively engaged hundreds of professional and amateur athletes in some fun and exercise for a cause. The event held in partnership with The Carol Kestenbaum Foundation in New York City for four consecutive years and running, has been covered by Fox News.
1st Annual "A Night & Smile to Remember"
The Foundation inaugural event held on August 16th 2007 was an opportunity to engage the young professional New York City community in a movement to impact change. Sending a message of hope to underrepresented and underserved local youth communities, the event empowered a handful of teen spokespeople to share their vision of world rid of violence through creative writing and photojournalism.  Youth speakers delivered a heart-warming and awakening message, along with personal written poetry inspired by Nicole's own story to drive contributions in support of Leave Out Violence, the RAPP program, among others.
The above events, among others, represent a significant segment of the overall fundraising efforts of The Nicole Schiffman Foundation since its creation in 2007.  Helping us introduce the foundation's mission to attendees and raise awareness of our efforts, contributions have gone to support organizations that support the at-risk teen and young adult communities.
Look out for more opportunities to participate soon.