The Nicole Schiffman Foundation
'never leave until tomorrow that which you can do today'
On February 18, 2007 the world lost a beautiful soul to senseless violence. Nicole Schiffman embodied a sense of compassion and a true desire to help others in need. To honor her memory, her family set up The Nicole Schiffman Foundation, a 501(c) non-profit organization, with a mission to reach out to troubled youth in today's society and communicate a message of non-violence.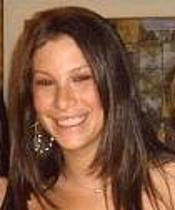 The support system of family and friends for a young adult is of the utmost importance. However, many are not fortunate enough to have either. Our Foundation will make available the help and guidance troubled youths need to avoid turning their personal crises into suicide or violence.
We support organizations that are in alignment with our mission of providing support systems to youths in need. The Foundation allows our family to let Nicole's goodness and name live on through the various programs we support. Please use this website to learn more about Nicole and how she has enriched, and will continue to enrich the lives of others.
Thank you in advance for your support.
– The Schiffman Family
Partnerships and Affiliations
The Art Therapy Project

The Art Therapy Project of New York is a highly successful non-profit organization that uses guided art therapy to turn negative energy into positive self-expression.
With a focus on at-risk children and young adults, the Nicole Schiffman Foundation Creative Arts Program teaches creative writing and expressive narrative to reach underserved trauma survivors, many of whom have been unable to progress with traditional talk therapy. A range of youth issues are addressed including: peer pressure, family and school dynamics, identity issues, stress and anxiety, bullying, socialization, managing conflict, and effective ways to identify high risk situations. The sessions are being offered at Manhattan's School of Visual Arts and other NYC site-based locations.
The Long Island Crisis Center
It's OK to ask for help
Through the Long Island Crisis Center of Bellmore NY, The Nicole Schiffman Foundation offers a number of outreach programs through local high chools and colleges to educate youth on the recognizing the signs of mental illness that may lead to violence and suicide. The program was recently expanded to provide education on cyber-bullying, a prevalent issue among today's youth.
The Nicole Schiffman Foundation Long Island Crisis Center to launch a viral marketing campaign to raise awareness of the crisis center counseling and support. The objective of this campaign was to reach out and speak directly to teenagers and young adults through public service announcements, social networking platforms, and an interactive website. LookCloserOnline.com aimed to teach teenagers and young adults not only how to handle their own demons but also how to best approach a troubled friend or acquaintance. This groundbreaking initiative successfully directly reached over 11,000 teenagers and young adults in the Long Island area, and many more through word-of-mouth, within its first six months. Facebook ads continue to drive traffic to this innovative messaging platform that speaks directly to teens about asking for help.
We have also partnered with:
Stoked Mentoring, Inc.
The Recognition and Prevention (RAP) Program at LIJ Medical Center and Hospice of Long Island
Leave Out Violence
Transform violence into LOVE
Leave Out Violence (LOVE) was created to reduce and help eliminate violence in the lives of youths and their communities.  LOVE empowers teenagers and young adults through photography and journalism to initiate a movement of young spokespeople who communicate a message of non-violence. LOVE helps youth transform into brave leaders in the movement against violence. Since LOVE began in 1993, these young leaders have reached hundreds of thousands of young adults and inspired others to reject violence.
From 2007 – 2015, The Nicole Schiffman Foundation empowered over 2,500 LOVE youth leaders through creative self expression to become peer advocates of non-violence.
The Nicole Schiffman Center for LOVE Youth
In 2009, The Nicole Schiffman Foundation Center for LOVE Youth was unveiled as the primary location in NYC for LOVE to conduct critical outreach initiatives targeting at risk teens. This safe haven enables youth who have been affected by violence to create positive change in their lives and become leaders among their peers and communities.
LOVE youth learn poetry, photography and media arts to process their negative experiences through creative expression allowing them to build their conflict-resolution skills and reach their full potential. Thank you to the Silvian Foundation for their support in helping make some of this work possible.
You can view an example of the videos produced by these inspiring young producers and cinematographers below:
Phi Sig Scholarship Established in Memory of the Beta Alpha Sister, Nicole Schiffman
The sisters of the Phi Sigma Sigma Sorority at The University of Maryland have established a special committee in memory of their beloved sister Nicole. Headed by a philanthropy chair, the sisters have created a scholarship fund to honor the memory of their exceptional sister and friend.
The scholarship is awarded each Spring to an stand-out student that meets the criteria determined by the sisters of Phi Sig Maryland chapter, and embodies everything Nicole stood for – sisterhood, friendship, and community service involvement.

The Nicole Schiffman Foundation would like to acknowledge the extraordinary efforts of the Phi Sig Beta Alpha chapter at the University of Maryland for honoring an extraordinary young woman's life.
The Nicole Schiffman Scholarship at John F. Kennedy High School
Nicole had a natural ability and desire to express herself through writing, especially poetry. In her senior year at Kennedy High School in Bellmore, New York she began to explore this ability and interest further with the guidance of one special teacher, Ms. Lopez. To commemorate her passion and her beautiful life that ended too early, a memorial scholarship has been established at John F. Kennedy High School. Through the foundation's various fundraising events, and the generous donations of our individual supporters, The Nicole Schiffman Foundation has the privilege of presenting The Nicole Schiffman Memorial Scholarship annually to a deserving Kennedy student.